In 1912, John Henry and his brother Fredrick moved from Washington D.C to Baltimore and purchased Schneider's Old German Café on Fayette Street. They initially called their restaurant Miller Brothers German Café and later simply Miller Brothers Restaurant. The restaurant gained national recognition and became the "place to eat" in Baltimore.
On August 7, 1939 John Henry Miller filed to patent a compact Crumber that could be "carried very conveniently in the pocket." Of methods in use at the time of his application, Miller wrote:
"The use of the conventional brush and crumb pan is cumbersome, usually disturbs the diners at the table in its use, because of the relatively large area of operation required by them."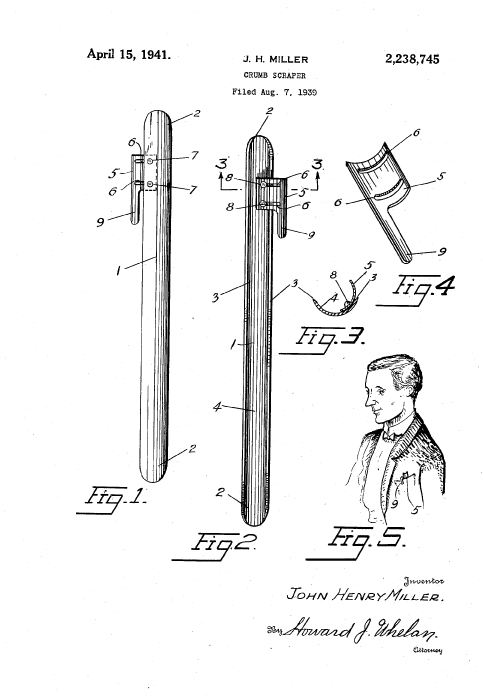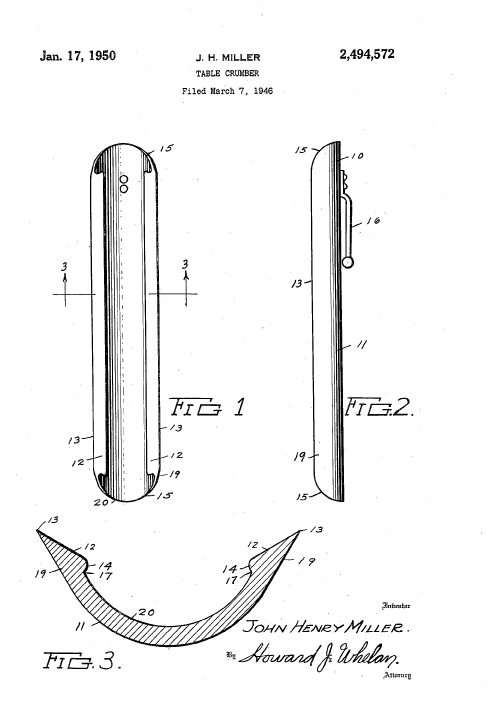 He described the scraper as "It consists of a simple narrow piece of transversely curved strip of metal, plastic or like, bent on a segment of a circle of about 120 degrees."

U.S. Patent number 2,238,748 was issued to Miller on April 15, 1941.

In 1946 Miller applied for a patent on his improvements to the crumb scraper. Miller points out that the existing finger operated crumb scraper" ... has the disadvantage of being able to retain the crumbs gathered up if it is held on its scooping edge against the surface, but tilted backwardly to do so." Miller solved the problem by forming ridges on the inner surface of the scraper to retain the crumbs. His dissertation on the manufacture and usage closes with "The scoop is neat and being pocket size avoids the objection which the more cumbersome dust pan offers for the same type of duty."
Miller was granted U.S. Patent Number 2,494,572 on January 17, 1950. He also patented this invention in Germany (No. 816,299 issued October 8, 1951 for "Krumelschippe"), France (No. 1,007,354 issued February 6, 1952 for "Ramasse-miettes") and Great Britain (No. 676,029 issued July 23, 1952 for "Improvements in Crum Scoops").

We continue to manufacture the Table Crumber that Henry Miller invented right here in his hometown of Baltimore with the same pride that he had in this wonderful product.
Proudly carrying on the tradition,
Daniel P. Solomon
General Manager
Ray Machine Incorporated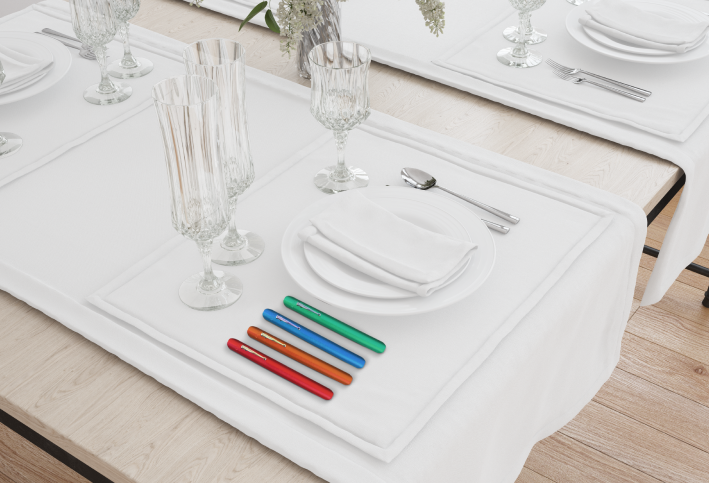 Quantity Discounts!
When you order 50 or more